Welcome to the Singapore Internet Lingo Wiki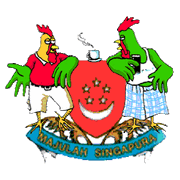 This website aims to collate the largest list of lingos used in Singapore and countries around the area alike. We also hope that this website will serve as a record of our singlish internet lingo so as to prevent the loss of meaning of the singlish word used commonly in our culture today.
What we are about
Ever wonder what some singlish internet lingo means? Or maybe how they come about? Or how they are used. This website aims to collate the largest singapore internet lingo list. Think you have some lingo to share? Do add your own lingos in as well.
The Language
Singapore is a multi-racial country that has a diversity of cultures and languages. Though young, Singapore has also established itself in a global level in-terms of business and trade. Thus, high percentage of the Singapore are english proficient and coupling with the local cultures and languages, a new breed of language is born and we called it Singlish. In this Wikia, you will find many words that can be used like an english word. For example, adding an "ing" to a action word will represent doing that action and adding an "ed" will mean having already done the action. A quick example would be "suan" where "suaning" means you are throwing sacrasm at someone, while "suaned" means you have thrown sacarsm at that someone. Hope you enjoy going through this wiki!
Alphabetical
Category